Researching for your next trip can sometimes fill you with horror and be quite overwhelming. With that in mind I thought I would share some highlights that you could explore AFTER your photography tour. Let me give you a helping hand for your next holiday with my Perth & Kinross "Big 5" things to do.
Of course, it's not as easy as that. I could NEVER decide on just five things to do. So, I have split them up into five "must see" categories. Within each category I have chosen five of my favourite places, activities, walks etc. In no particular order…
Castles
Blair Castle – Blair Atholl
Starting in Highland Perthshire with Blair Castle.
In the heart of this 145,000 acre estate is a picture postcard, white fairy tale-esque castle that is home to the only private army in Europe, the Atholl Highlanders.
Here you will find beautiful 9 acre peaceful walled garden, woodlands, tearoom and tours of the castle are available.
Loch Leven Castle – Kinross
If you fancy a wee adventure then Loch Leven Castle is the one for you.
Follow in the footsteps of Mary, Queen of Scots and Robert the Bruce with a boat trip across the water of loch Leven to the castle.
A prison to Mary, Queen of Scots in 1567 the castle is now set in a tranquil National Nature Reserve. The views of the Lomond Hills loom large close by.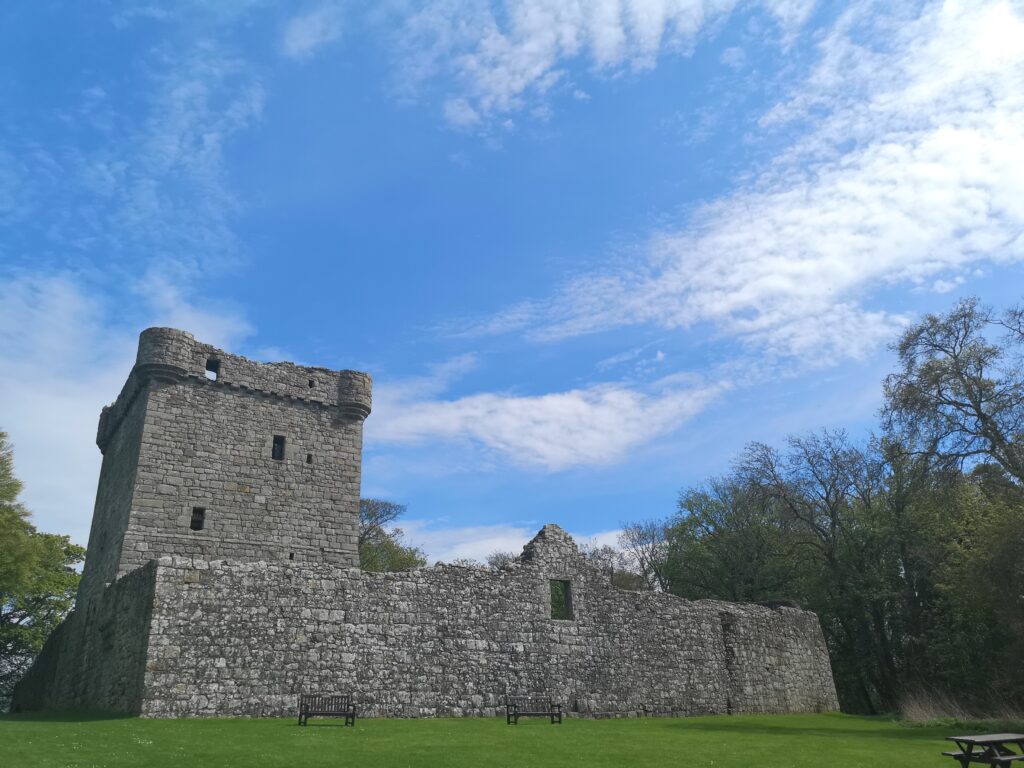 Drummond Castle Gardens- Muthill, nr Crieff
Some of you might recognise this impressive landscaping at Drummond Castle Gardens. They've been used for filming scenes of the popular fictional series of Outlander and the film Rob Roy.
Although the gardens are open to the public the castle remains private, however it does provide an excellent backdrop. The terrace provides incredible views across the gardens and woodlands beyond.
Elcho Castle – Perth
This much overlooked 16th century tower house is nestled beside the river Tay and provides superb views of nearby Kinnoull Hill. Elcho Castle is perfect for discovering some of Perthshire's hidden secrets.
The sweeping stone spiral staircase is really impressive despite not being a noble residence it clearly still makes an impression on all visitors.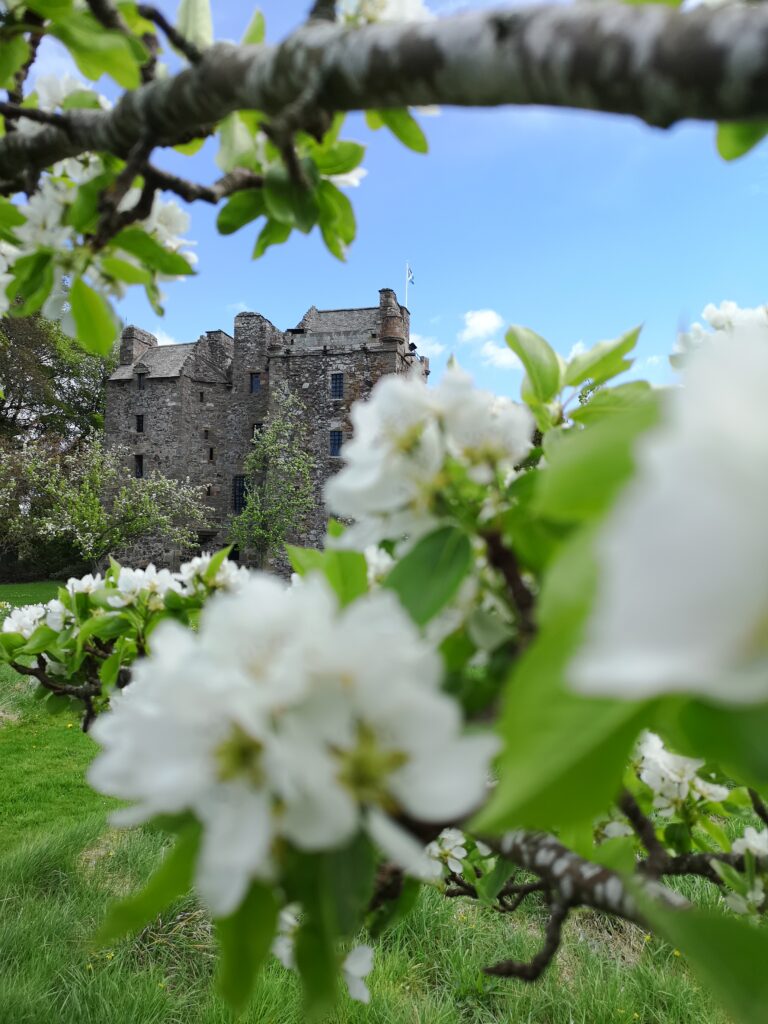 Balhousie Castle – Perth
Dating back to the 12th century Balhousie Castle is the ancestral home to the Black Watch museum and is so much more than visiting just any old castle.
With fascinating displays showcasing the history of the regiment and the castle, a fabulous gift shop and tearoom.
The museum and tearoom are open all year round.
Adventure Activities
Adventure activities have to be next on my Perth & Kinross Big 5 things to do list. We have the ultimate playground and it's worth exploring deeper.
Rosie Baxendine – Bikepacking Guide, Perthshire
If you're wanting to truly see Perthshire in it's wildest form but not sure where to start I know just the person. Rosie Baxendine, Bikepacking Guide.
Her website reads "happiest when feral" which I love. Guided bikepacking, overnight gravel rides all with local knowledge and passion for our Perthshire playground.
Bike hire and kit are available through Rosie, including eBikes and accessible routes, so don't let anything hold you back.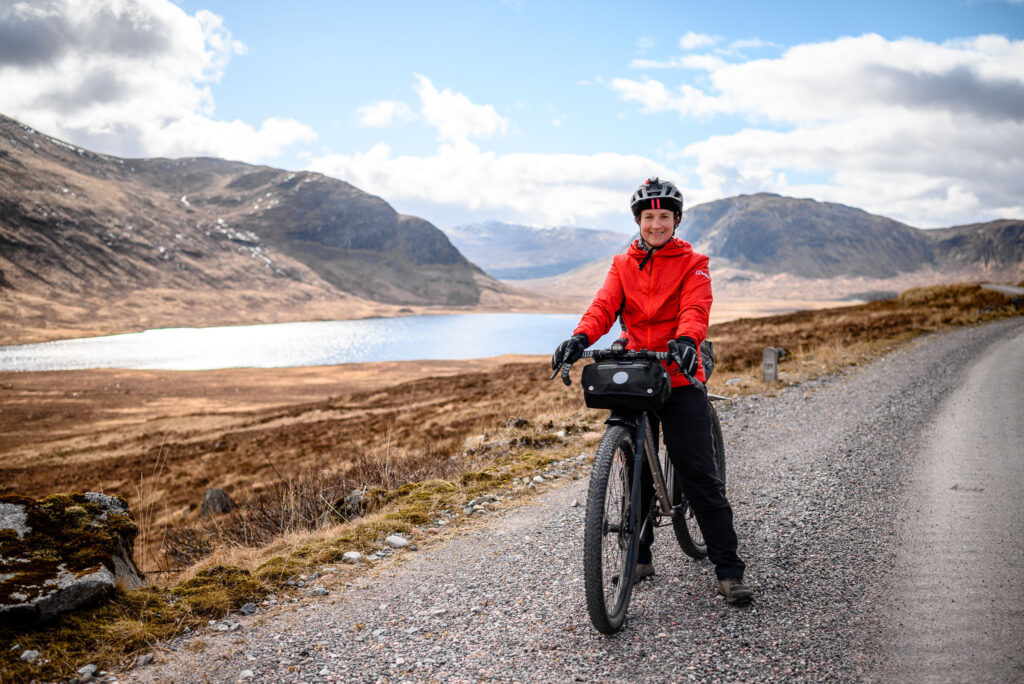 Beyond Adventure – Aberfeldy
Whether you are looking for a taster session, a full day or a week long expedition on the water, Beyond Adventure have you covered.
Here in Perth & Kinross we have some of the most scenic waterways in Scotland. So why not try stand up paddleboarding on loch Faskally or canoeing out to the Linn of Tummel. Maybe you fancy a 5 day trip paddling down the river Tay?
The team have got you covered. All knowledgeable, friendly and with a love for the local area.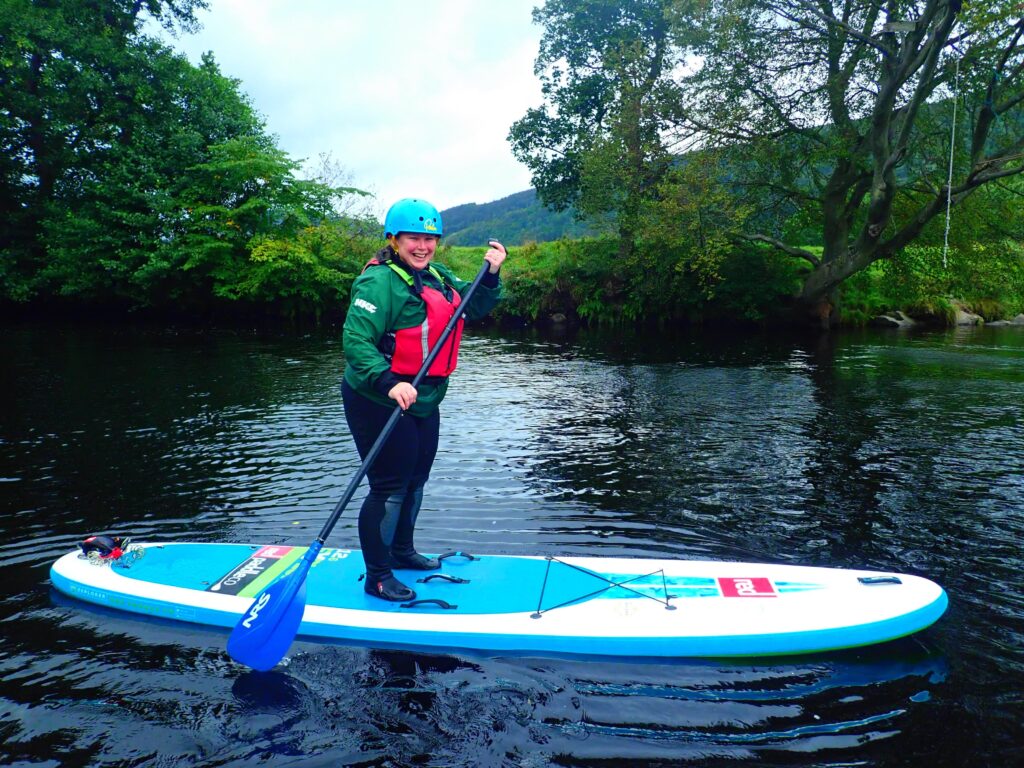 Highland Fling – Killicrankie
If it's an adrenaline rush you're after how about a bungee swing from the Garry Bridge in Highland Perthshire?
Or what about zip wires between the trees, high above the river Garry?
These would test the nerves of most people. Are you brave enough to join the Highland Fling team?
Wee Adventures
Family fun with the Wee Adventures team will have you returning home with memories to last forever.
Discover the islands of loch Tay or local waterfalls by canoe. Let your imaginations run wild.
You can also have your own tailor-made adventure with Biscuit, the Captain of your fun filled day. With years of experience, local knowledge and a longing to help youngsters and the young at heart have fun outdoors.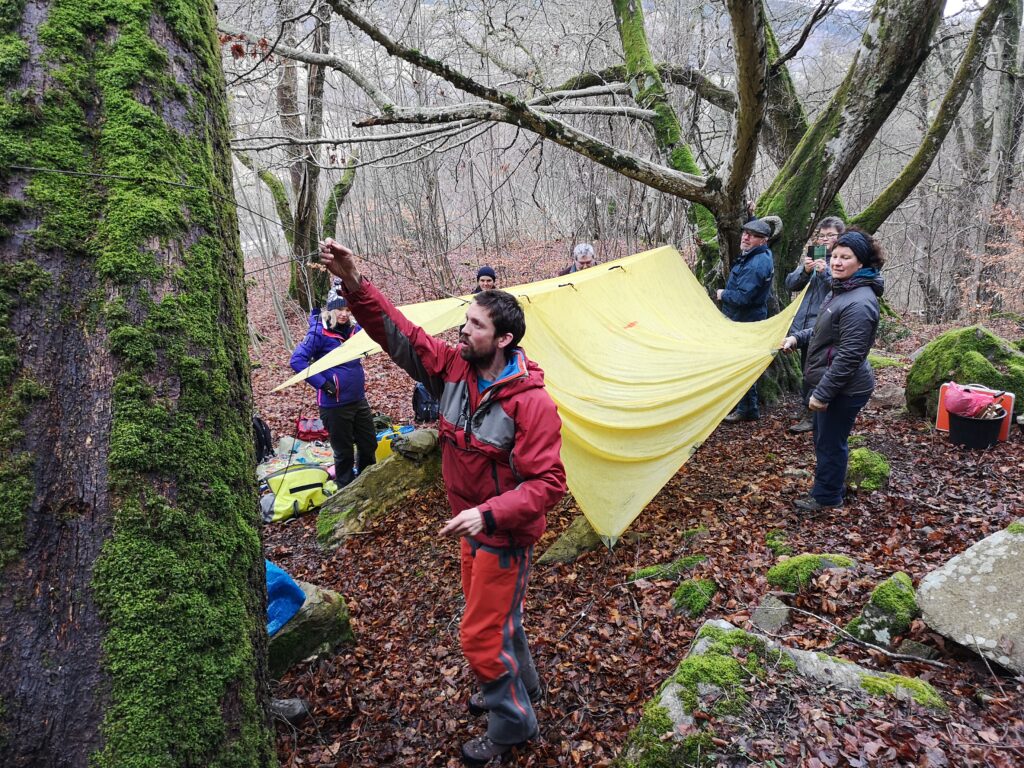 EZ Raiders, Action Glen, Crieff Hydro
What's an EZ Raider I hear you cry? Well, they are electric, all terrain vehicles with 4 wheels. Yup, four wheels for extra stability to help with exploring the 900 acre estate.
Personally I'm glad to see the back of the segway! They terrified me the last time we did this activity with Action Glen at the Crieff Hydro.
It's a really fun way to get out and see as much as you can in a short amount of time.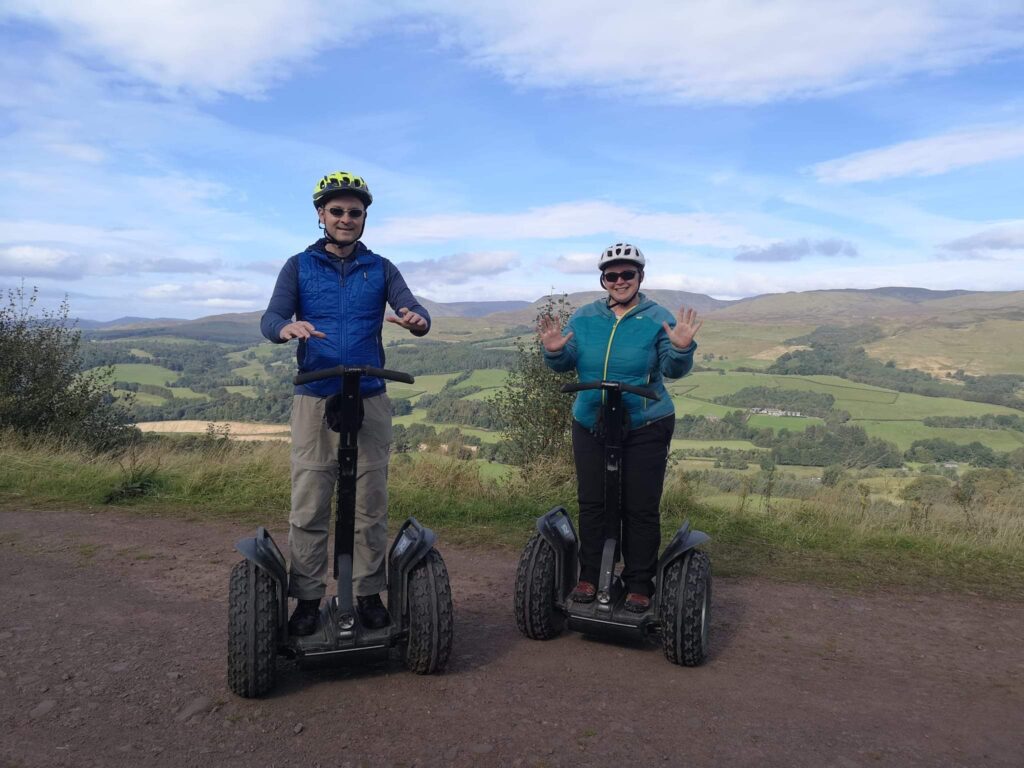 Wildlife
Osprey – Loch of the Lowes, nr Dunkeld
We are extremely privileged to have osprey breeding here in Perthshire. At the Scottish Wildlife Trust, Loch of the Lowes near Dunkeld you can get a birds eye view from the hides.
With the help of volunteers and spotting scopes they'll help you get some of the best scenes of the nearby nest.
These majestic birds visit for late March – Sept and it's really worth a visit. Here you may also see red squirrels and signs of beavers.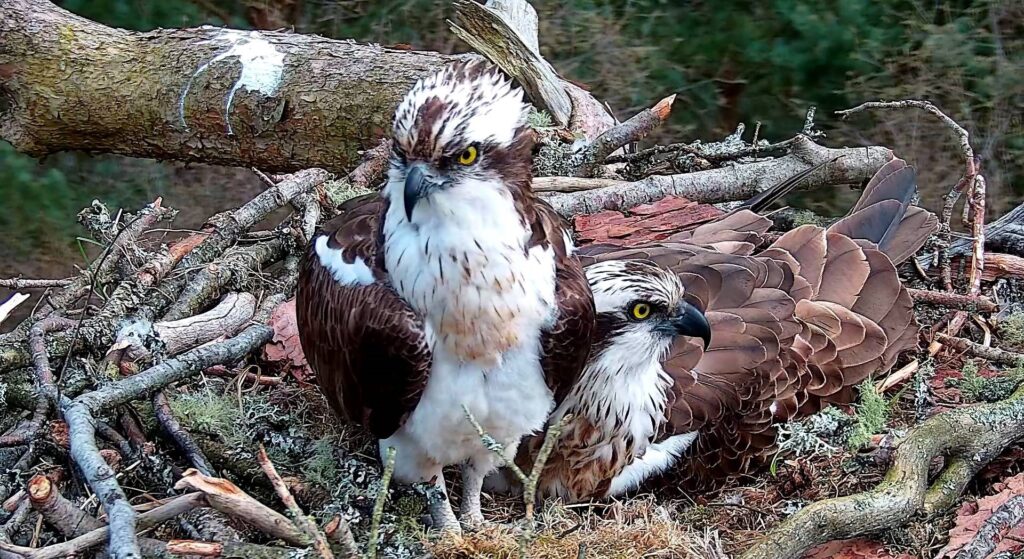 Salmon – The Hermitage, nr Dunkeld
Another seasonal visitor to the area are Atlantic salmon. One of nature's most amazing spectacles right here at the Hermitage in Perthshire in late September time.
Watching these fish attempt to jump up Black Linn falls to continue their journey up stream is spellbinding.
Surrounded by some of the tallest Douglas firs in Britain and with the roar of the water it's something to remember.
RSPB Scotland Loch Leven, nr Kinross
Just to the south of Kinross is RSPB Scotland, Loch Leven. A nature reserve where you can choose from a selection of hides to watch pink footed geese, osprey, lapwings, amongst others.
If you get tired of looking for birds head back toward the visitor centre and keep an eye open for red squirrels.
The recent renovations to the site have made this more accessible to everyone, and there's now an underpass under the busy main road and no steps. If you don't want to venture into the cold the cafe also has excellent views across the reserve.
Cluny House and Gardens, nr Aberfeldy
This is a stronghold for red squirrels. Perfect place for them to run free amongst the impressive gardens. Cluny House and Gardens has really embraced these wee red cuties.
It's also home to two Giant Redwoods, mere youngsters at just 150 years old.
Perthshire Wildlife
How about joining Perthshire Wildlife for a beaver safari or guided wildlife walk? Daniele's passion and knowledge is incredible.
This opportunity will connect you to the wildlife here in Perthshire. A chance to see the incredible engineering of a beaver dam, spot some beaver tracks and see close up the teeth marks on chewed trees. It really is fascinating.
Daniele also does a variety of other flora and fauna tours across the county. Well worth checking out the Perthshire Wildlife website.
Walks
Moncreiffe Hill
Not far from the outskirts of Perth city centre is Moncreiffe Hill. With nearly 14km of trails to explore most visitors just follow the main path up to the Iron Age hiilfort of Mordun Hill, the site of a battle in AD728.
A mix of broadleaf and coniferous woodland and home to deer, woodpeckers, red squirrels and so much more.
Views from the top, on a clear day, you can see the Lomond Hills in Fife, Kinnoull Hill on the opposite side of the river Tay, the city of Perth and beyond.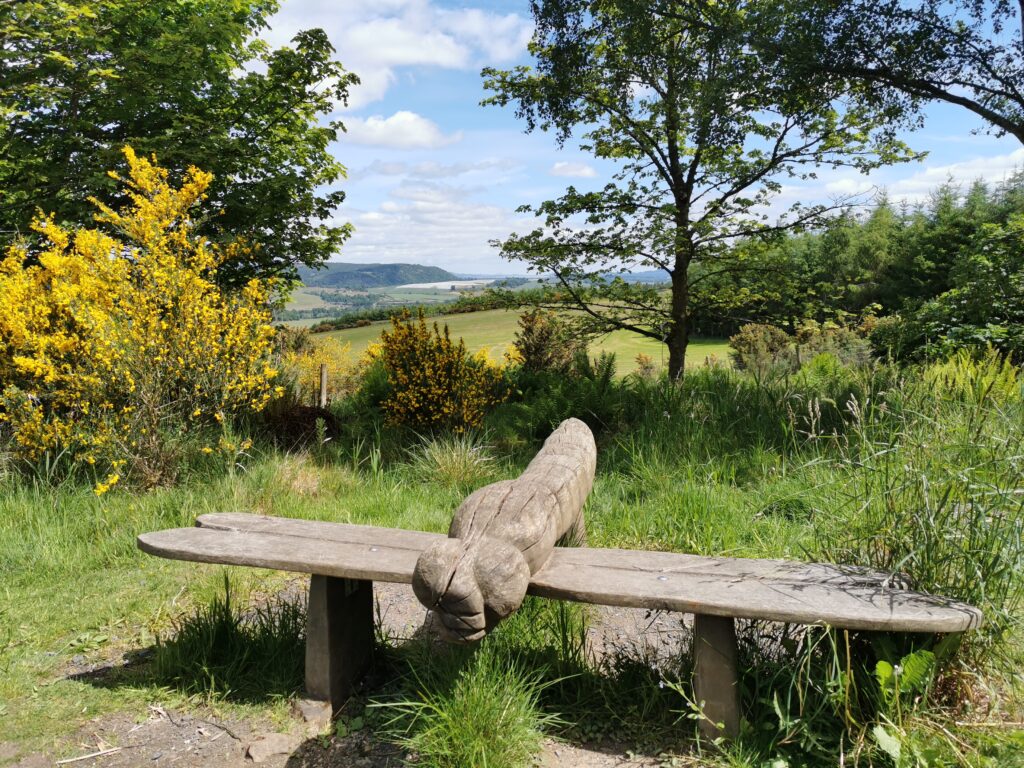 Loch Ordie – nr Dunkeld
This walk to Loch Ordie requires a little bit of effort and some decent footwear and is about 16km round trip. With around 700m of overall ascent the views across Perthshire are some of the best you'll see.
For the wild swimmers amongst you it's worth taking your swimsuit too. Sit on the wall by the bothy (not open to the public) and have your lunch.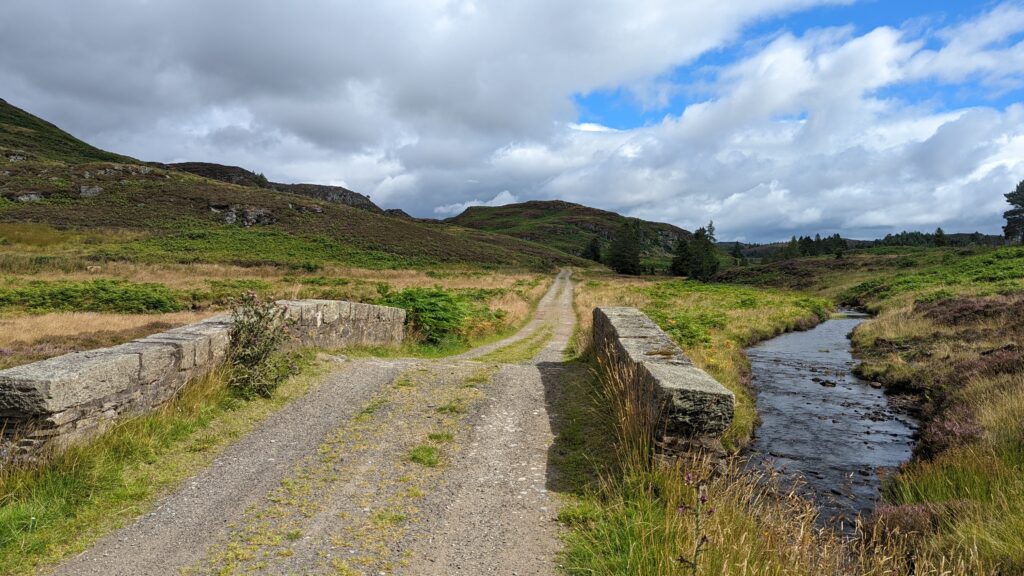 Linn of Tummel – nr Pitlochry
This beautiful route takes you along the rivers Garry and Tummel, through broadleaf woodland. The Linn of Tummel near Pitlochry is a relatively flat route with very few wide open views. However, it is really pretty and well protected from the wind.
The Linn of Tummel is the perfect spot to take photographs at any time of the year.
Black Rock viewpoint – nr Kenmore
Starting at Drummond Hill carpark near Kenmore the walk to Black Rock viewpoint starts off with a steep uphill pull!
Wind your way along wide forestry tracks for about 3km. There are little or no views through the thick coniferous trees, but I like to think of it as keeping the view across loch Tay a surprise. It's worth it.
You can extend this walk up to Drummond Hill too.
Allt na Bogair – Rannoch
This walk is full to the brim with beauty. An 8km wander along wide forestry tracks and narrow wooded trails with steep drops, waterfalls and spectacular views.
There is a viewpoint not far from the Carie car park (on the south shore) which overlooks loch Rannoch and on a clear day you can see out to Glen Coe.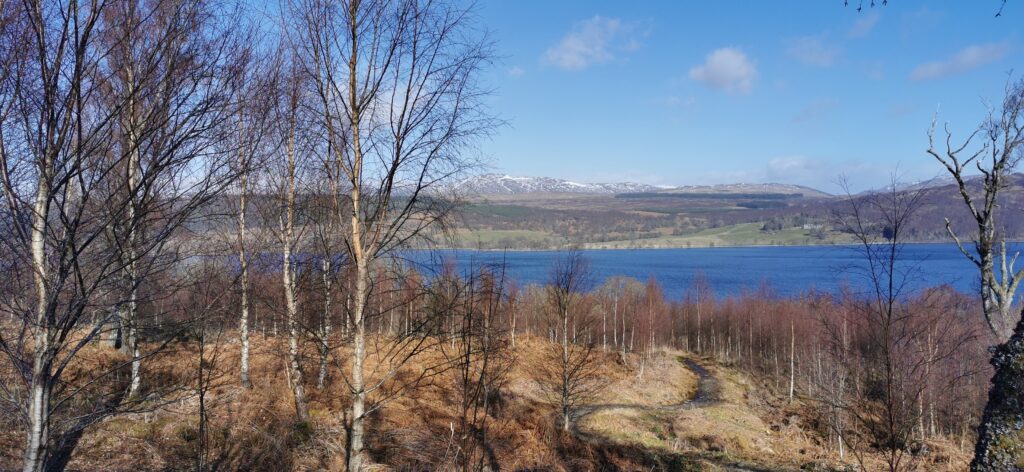 Viewpoints
Kinnoull Hill
This wee hill on the outskirts of Perth does not disappoint on providing big views. Perfect if you're short on time as the walk from the main carpark up to the viewpoint takes 20-30 minutes. There are miles of trails through the woodland park.
If you find the quieter spots away from the main trails you might see some of the resident red squirrels or roe deer.
Pine Cone Point
If you are driving along the A9 and fancy stretching your legs how about stopping off at Pine Cone Point? Park at the Hermitage and it'll be a doubly whammy experience.
Walk along the river Braan to Ossiain's Hall to marvel at Black Linn falls before following the tral up to the viewpoint.
Autumn is probably my favourite time to do this walk. A chance to admire the famous Perthshire colours in all their glory. A great photo opportunity too.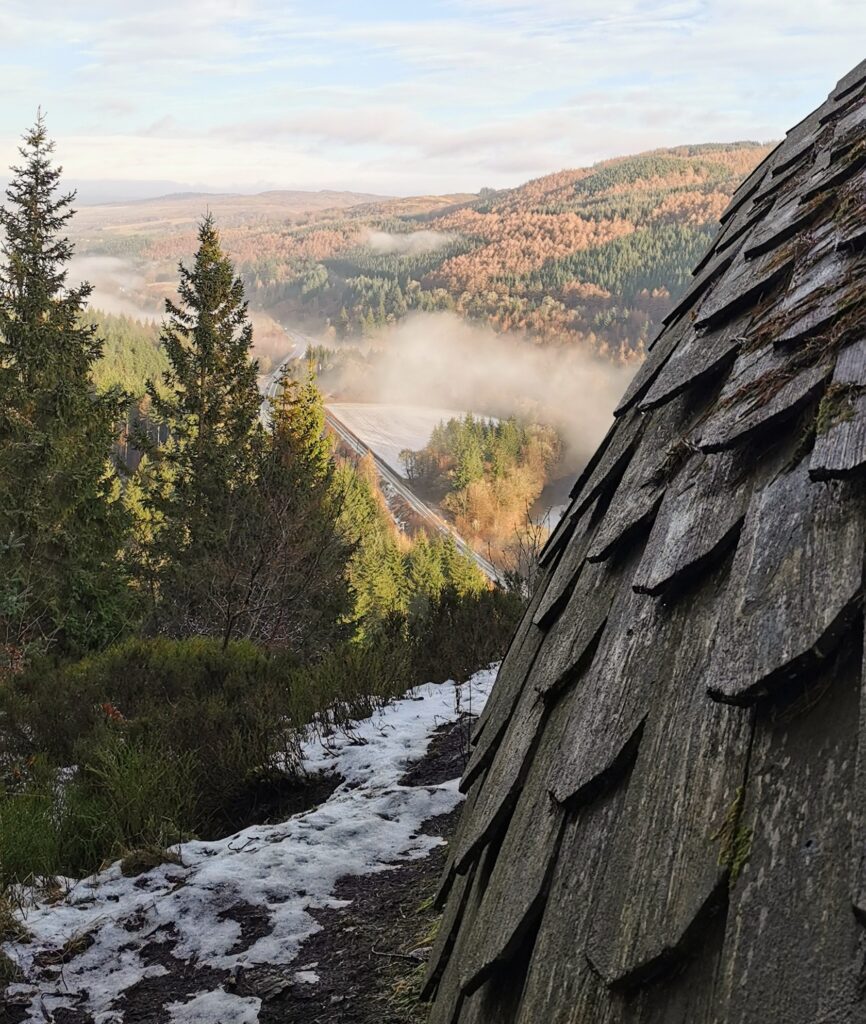 Queens View
Probably the most popular viewpoint of them all is Queens View. Overlooking loch Tummel, it's easy to see why so many people visit.
Just a short walk from the carpark and accessible, so everyone gets to enjoy the vista. Let your eyes wander along the water, over the tree tops of Tay Forest Park and across to Schiehallion.
It's not far from Pitlochry and well worth checking out.
Pitlochry Dam Visitor Centre
Okay, okay, I know this isn't a viewpoint in the traditional sense but it's quite something. This relatively new building, with it's cantilever, overlooks the river Tummel and the dam.
It has a cafe serving hot and cold drinks, tasty snacks, cakes and more hearty meals.
The interactive displays downstairs show visitors how the dam was built and you can learn more about renewable energy. At certain times of the year it is also possible to see salmon using the ladder to get up stream too.
The Knock of Crieff, Crieff
Part of a waymarked 6km circuit, the path to the top is short but steep. When you make it to the top you'll be rewarded with views across Strathearn.
If you are short on time there is a lower viewpoint not far from the car park which affords decent views.
It's well worth making the effort if you have the time to enjoy these views.
Things to do in Perth & Kinross
My Perth & Kinross Big 5 things to do list is just the tip of the iceberg with some of the fabulous things on offer. All outdoorsy experiences that will offer a multitude of endless photography opportunities.
We look forward to hearing all about your adventures when you book your photography tour with us.